6.1 My 6-step photo editing process for any image
We have covered so much in this course already haven't we! It may have even been a little overwhelming. I do like to over-deliver and provide as much value as possible.
This process is designed to keep it simple for you and make just the basic enhancements in a systematic order to make the most efficient and effective transformation of your image. For example, there is no point making a particular area of your photo look amazing to then go and crop it out in the next step.
I use this process on most of my editing as a starting point before then moving onto specific area (local) adjustments and other tools that will specifically benefit the individual photo.
Each individual steps has been expanded in previous modules 2 and 3.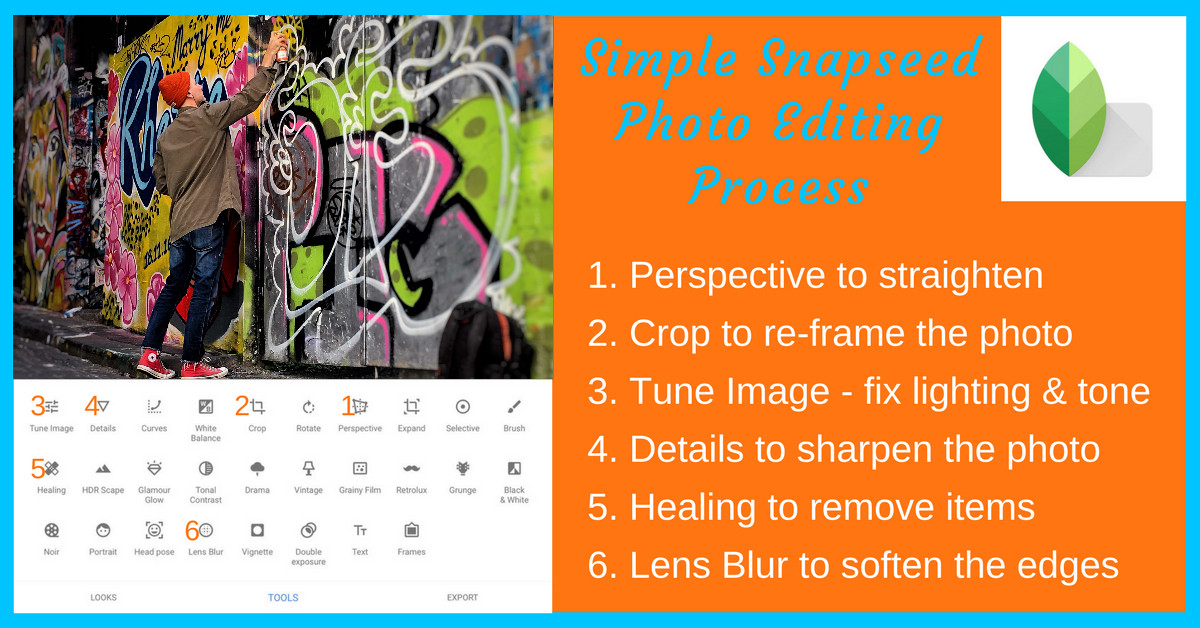 1. Perspective
Firstly, you may need to straighten the image. At times, you may deliberately angle your photo to make it look more dynamic and create some interest. However, often a photo that is slightly crooked can make your photo look 'not quite right'. This is called 'visual tension.'
Select 'Perspective' under the Tools menu, followed by 'Rotation'. Then you can swipe left or right to adjust your image. You will notice the black corners being filled in when you let go? It is super cool!
2. Crop
Secondly, you may want to re-frame the photo to highlight a subject area or change the focus of surrounding elements in the photo. Experiment with aspect presets and compositions. Drag the corners in and out or hold the centre of the grid and move it around.
You may even discover several photographic opportunities within the one photo.
3. Tune Image
This is where real magic happens. After selecting 'Tune Image', again under the tools menu, I always swipe up to 'Ambience' first. This adjustment is a combination of many of the enhancement options available to you. It alone can really make your photo pop off the screen. Next, I start at the top of the 'Tune Image' options and work my way down to the bottom. There is no right and wrong with these adjustments. Experiment a little, you never know what you will discover. If you go too far, you can always reduce the strength of the effect.
4. Details
Again under the tools menu, you will find a menu option called 'Details'. There are two options here to sharpen the image. 'Structure' sharpens the edges within the photo and 'Sharpening' sharpens every pixel. My advice is to generally avoid pushing 'structure' past the number 20 because the image becomes grainy and looks manufactured or fake.
5. Healing
This is the final adjustment and one that you will absolutely love - one of the best features of the Snapseed photo editing app.
Remove any distracting objects from your photo. Pinch and zoom to get in closer to the object you want to remove. Then, tap or swipe over the object. The area you swipe over is instantly filled with content from surrounding pixels. It does a great job.
6. Lens Blur
I love this feature of Snapseed. You can choose either elliptical or linear which is basically adding blur around the subject or across the top and bottom of the image. You can increase and decrease the area in blur, the transition between in focus and out of focus, focus strength and also add a vignette - darkening of the outer corners.