Day 3 - Snapseed Settings, Android and iPhone differences and other apps covered
Why Snapseed?
There are so many apps available in both the Google Play Store and Apple app store. Most app developers choose one platform over the other. In this course, we will be using apps available on both platforms, regularly updated and do not lose image quality.
Snapseed is intuitive to use, feature-rich and powerful. The interface avoids the beginner from becoming overwhelmed. The more advanced user can also make use of layering and masking.
Snapseed familiarisation and initial settings
In this lesson, we are going to cover:
Why Snapseed as the main editing app in this course?
Settings in Snapseed app to become familiar with
Snapseed differences between the iPhone and Android
Prepare your smartphone for photo editing
Other apps mentioned in the course
Settings
After you download any photo editing app, you need to check the default settings to ensure that the highest resolution is being saved. Some apps - even Snapseed, will save at a lower resolution for storage optimisation.
In Snapseed, go to:
3 dot overflow in the top right corner
Settings
Format and quality
Select JPG 100%
The other option is PNG. This file format does not compress or reduce resolution, retaining as much data in the photo as possible. It does save as a larger file of more than 50% larger. PNG images can appear marginally better when shared in social media platforms.
After downloading an app, become familiar with the default settings. The standard settings may be set up to save smaller file sizes and save space on your phone. There may be options to save images to the higher resolution.
Snapseed differences between the iPhone and Android
Although this app is available on both Android and the iPhone, there are some differences to be aware of. During this course, tools and icon descriptions and navigation may vary between devices.
Below are some examples of differences between the two operating systems: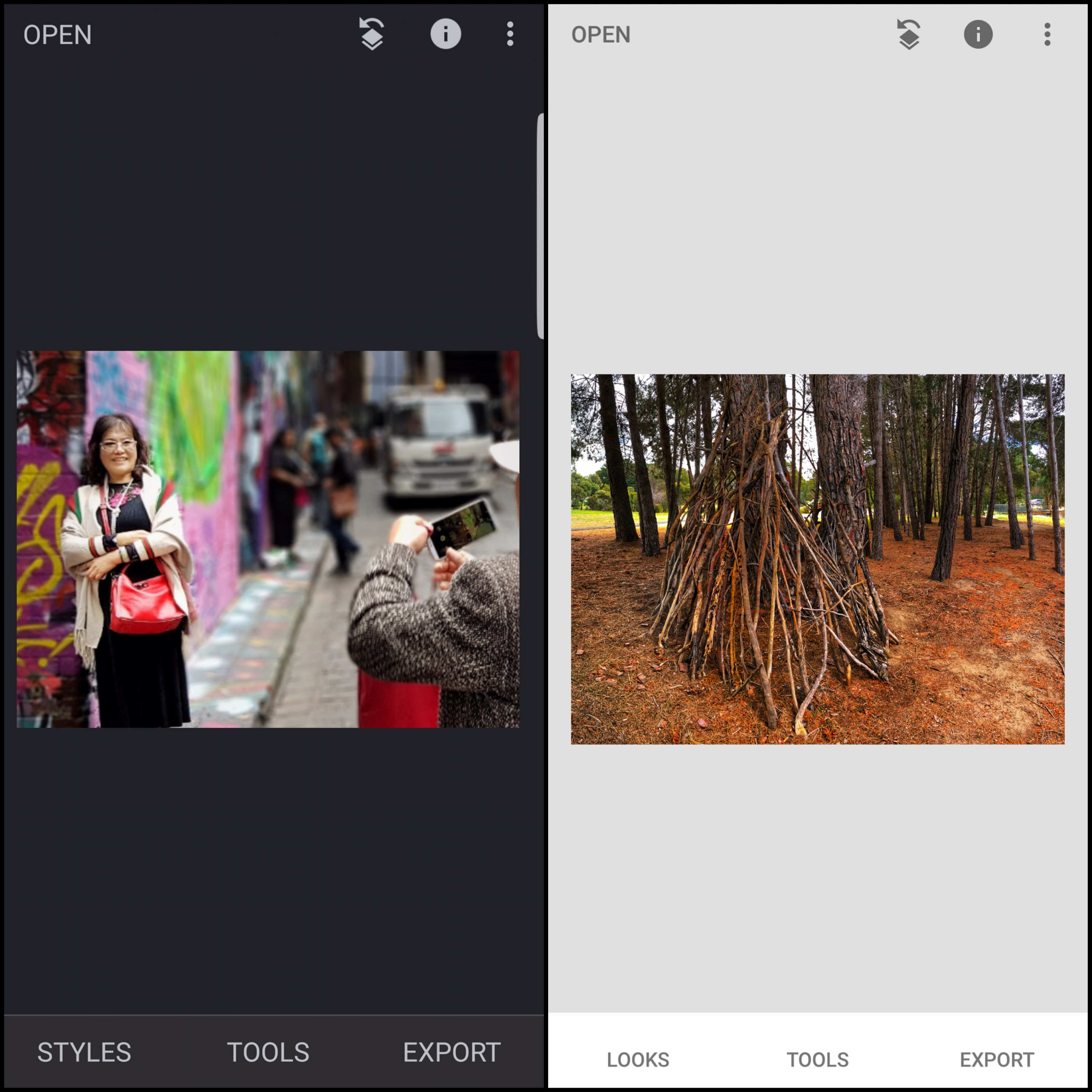 The Android version on the left has a dark theme option. Personally, I love the black background against images. The contrast of the grey/white background does look cleaner and is popular on websites and social media. Personally, I find the light background contrasts against most of my images, making it little harder to study my images. It is up to you, which you like - on the Android. Unfortunately, the option inside settings is not available on the iOS (iPhone) version. Historically, Snapseed releases new features to Android before rolling them out to iOS. Watch this space!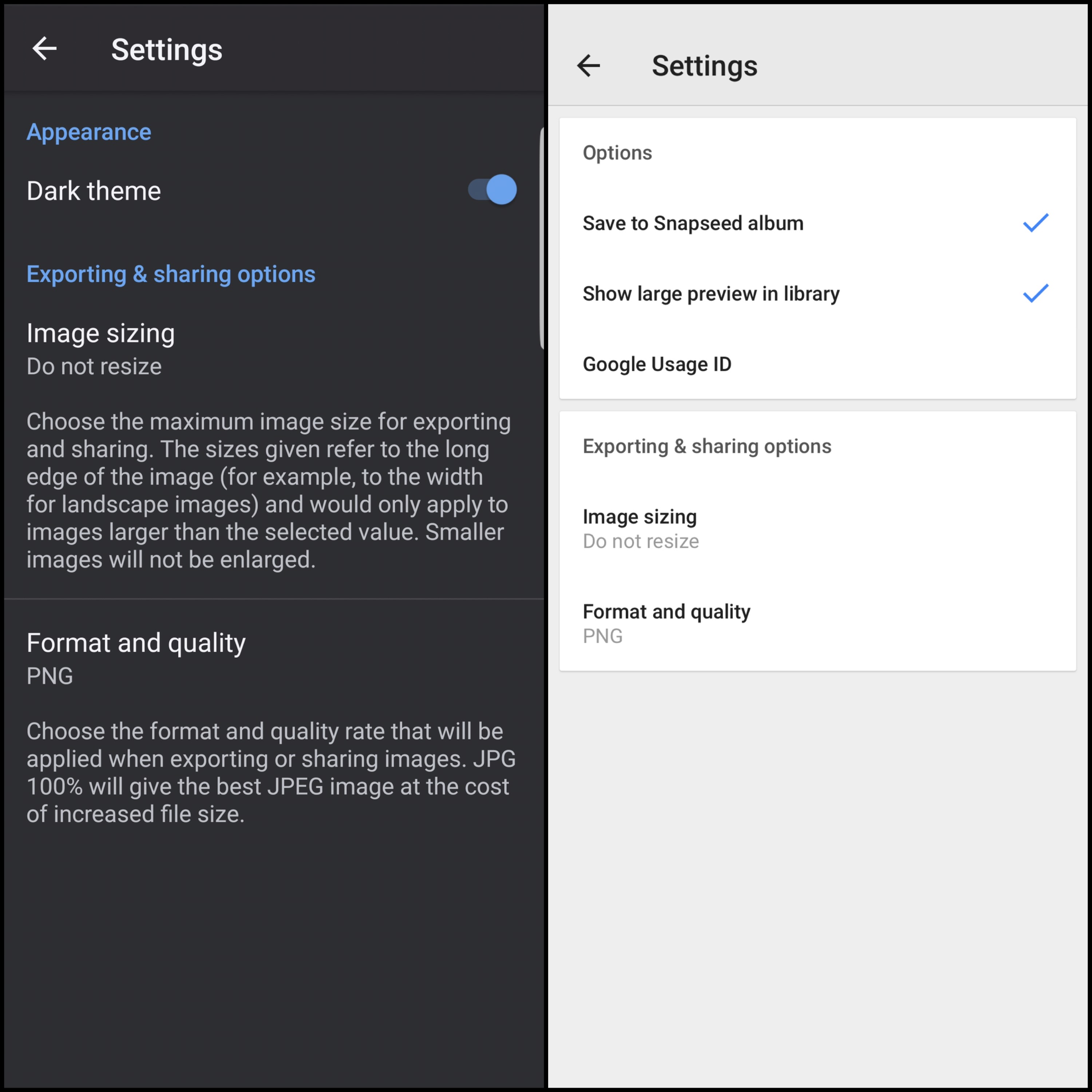 The settings menu within the app has a couple of differences.
The Google Usage ID option on the iPhone is your option to either provide or restrict provided details of your usage of the Google app. Android apps installed through Google Play already do this and do not provide the option to opt-out. This is located in the Settings > Apps > Snapseed > Permissions > Tap on the three-dot overflow menu in the top right corner to access All Permissions. Here, you can 'read' the Google Service Configuration Data.
The iPhone by default will save edited images to a separate Snapseed folder in your Photos. This can be unticked and any edited images will be saved as the last image in your All Photos album. The Android has more options available in the Export option (covered below).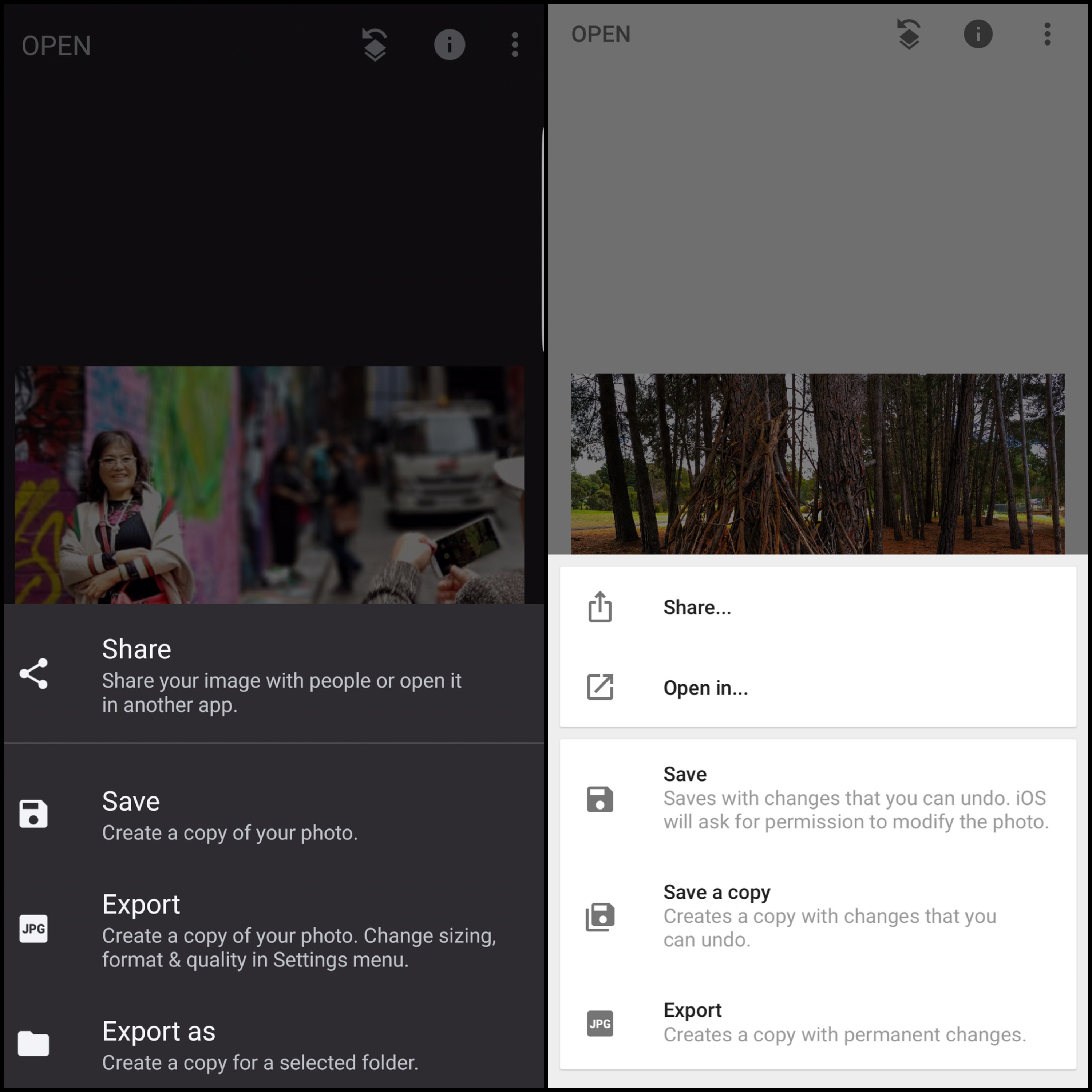 After you have finished editing your image, it is time to save it. The Android version allows you to share the original sized or reduced quality image directly to the pictures album in the Gallery or a desired folder on the phone, SD card or cloud-based folder.
Save option – provides the opportunity to save over the original to save space. You are prompted with a warning message before losing the original. I prefer to save a copy and keep the original. This allows you to go back and edit the same original as your photo editing skills improve or you want to edit the image in another creative way.
Save a copy – will save a copy and retain the history of all the edits. This allows you to go back and re-adjust some of your edits.
Export – saves a copy with permanent changes applied.
Open in – is a fantastic tool. It sends and opens a copy of your image, (at that stage of the editing) to another photo editing app. Be mindful, that the next app will save a new image losing the ability to go back and re-adjust any editing within Snapseed.
Prepare your smartphone for photo editing
Now, to prepare your smartphone for photo editing, there are some screen settings that you need to be aware of that may affect your end result. Depending on the mobile unit you are using there may be some settings that affect the screen brightness and colour. These are great features and advancements in phone technology. However, a screen displaying inaccurate brightness or colours will affect the outcome of your editing. Some to look out for are:
Auto-Brightness
Blue Light Filter
True Tone
Night Shift
Auto brightness is a personal choice. Some people like to have it turned on. I do for everyday use. When photo editing, I turn the brightness all the way up. This ensures that my finished image is not actually dark on another device or when I upload it online.
Screen modes:
Some Android devices (not iPhones) have different screen modes. There are different colour standards for monitors, printers and smartphones. This is similar to having different boxes of crayons the manufacturer can choose from. The screen modes also change which of these available colours are used on the device (colour gamut). Each mode changes the colour standard (colour space) and a subset of those used by the device.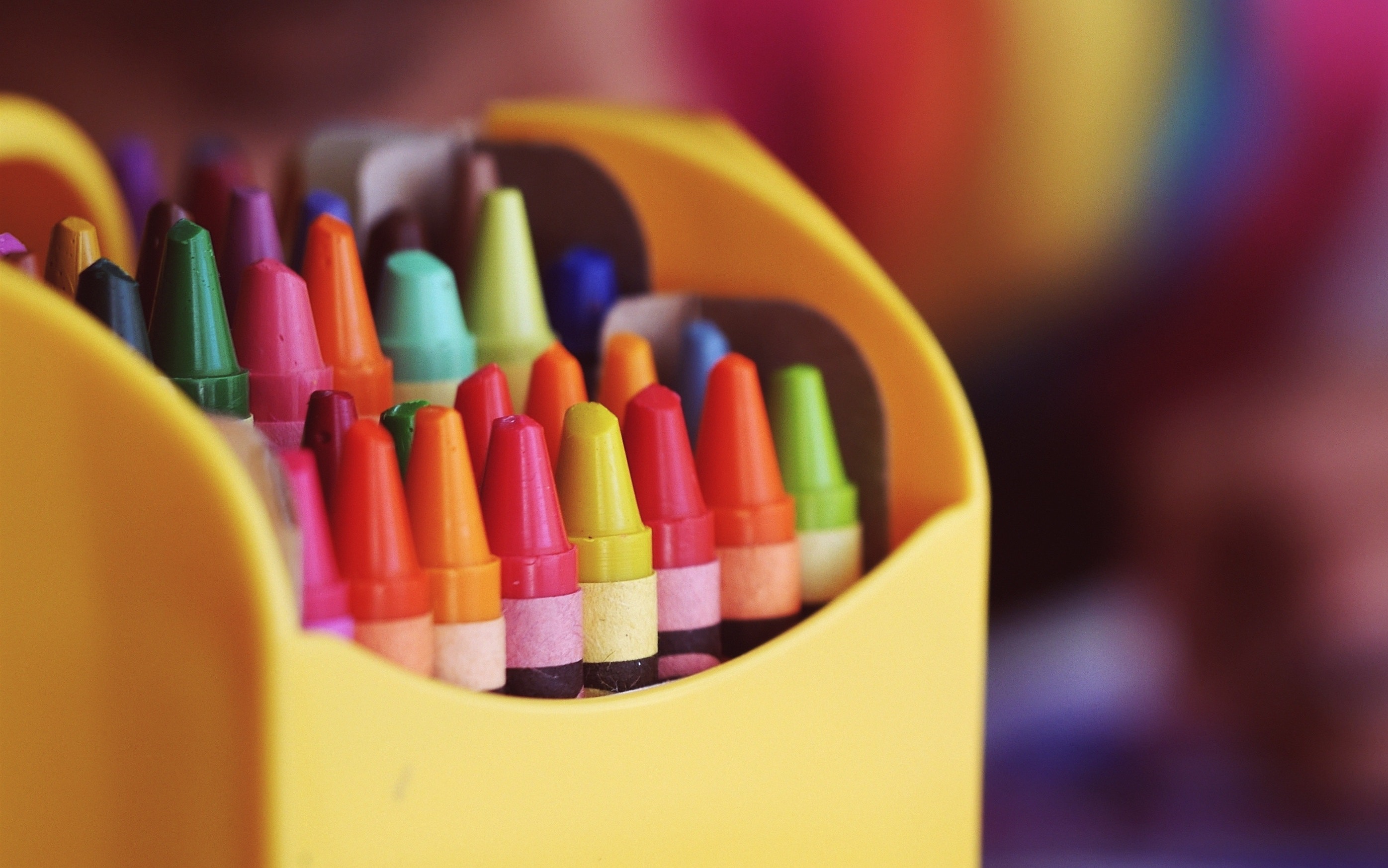 Basic screen mode is the sRGB colour space (small box of crayons). This is the most popular standard of colour.
*Note: these settings are relevant to some Android phones, not iPhones.
AMOLED Cinema screen mode is the newer DCI-P3 colour space (larger box of crayons). This provides a 26% more colour range than the Basic Mode.
If you view most of your photos on your phone or directly on 4K display, then AMOLED Cinema is a great choice. If you print or post a lot of your images online, then the Basic mode will display a more consistent image as viewed. I found myself editing images in AMOLED Cinema screen mode, and then being very disappointed in the flat muted colours in the Instagram post.
Anecdotally. I have found AMOLED Photo to be in-between these two options and a great compromise. It gives me a great display and close enough result to what is seen online.
Screen resolution.
The main consideration here is battery power! I know, nothing to do with resolution. The higher the resolution the more drain on the battery. Online reviews have reported noticing significant battery performance issues. I would suggest turning it on for a few days and monitor how often you find yourself needing to recharge.
For me, I do not notice a significant difference and have mine set at FHD+ at 2220x1080. On the Plus/Edge models, it may be a bigger deal. I also found a couple of apps struggled with the higher screen resolution.